Recycling and Environmental Facts about PVC
Polyvinyl Chloride (PVC) is one of the most widely used polymers in the world. Due to its versatile nature, PVC is used extensively across a broad range of  industrial, technical and everyday applications including widespread use in building, transport, packaging, electrical/electronic and healthcare applications.
PVC is a very durable and long lasting material which can be used in a variety of applications, either rigid or flexible, white or black and a wide range of colours in between.
The essential raw materials for PVC are derived from salt and oil. Given PVC is manufactured from two starting materials, PVC takes less non-renewable fossil fuel to make than any other commodity plastic. Also PVC can be made without using oil feedstock at all (substituting oil-derived hydrocarbon with bio-derived hydrocarbon feedstock). PVC is therefore far less oil-dependent than other thermoplastics. It is also highly durable and energy efficient across a range of applications, which makes for an extremely effective use of raw materials.
PVC has a relatively small carbon footrprint,  the below infographic indicates the CO2 impact PVC compared to other products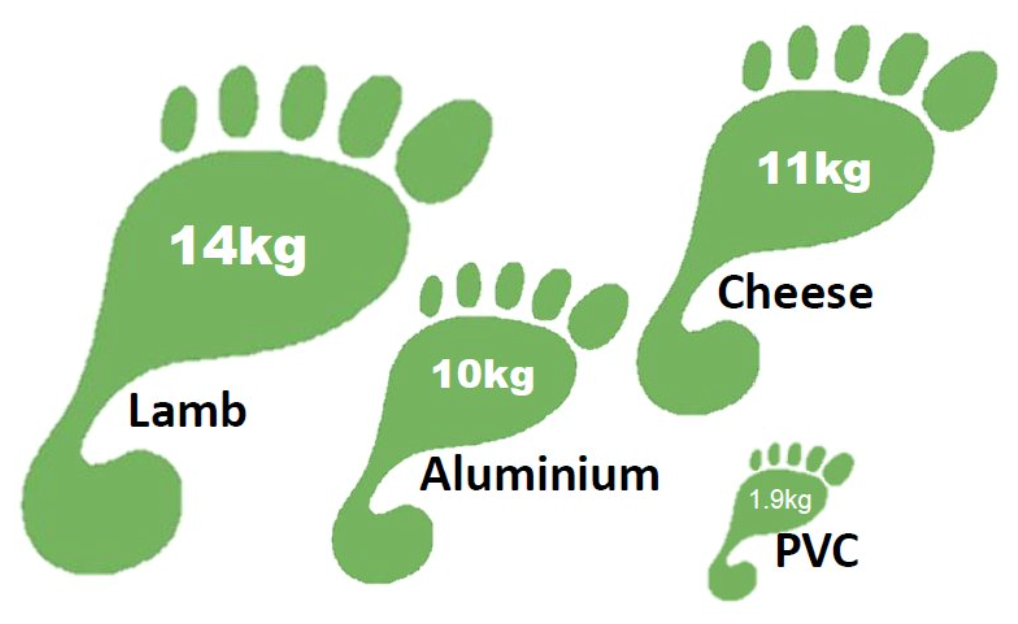 The structure and composition of PVC lends itself to being mechanically recycled, with reasonable ease up to 7 times, to produce good quality recycling material. As with most recycling streams, sorting is of the utmost importance to achieve optimal recycling of PVC materials.
Across the world, the PVC industry has invested heavily to develop sophisticated recycling schemes to ensure that large amounts of PVC can be reused in a new generation of advanced energy efficient, sustainable products. This investment has meant that not just production off-cuts are recycled but also products such as doors and PVC-U windows are recycled on a huge global scale.
Our PVC is fully recyclable and can be "up-cycled" into new products at end-of-life, meaning that PVC waste out of short term applications (life expectancy a few weeks or months) can be recycled in products with a life expectancy of 30 to 100 years or more. Below demonstrates the lifecycle of PVC at KPC Book Protection: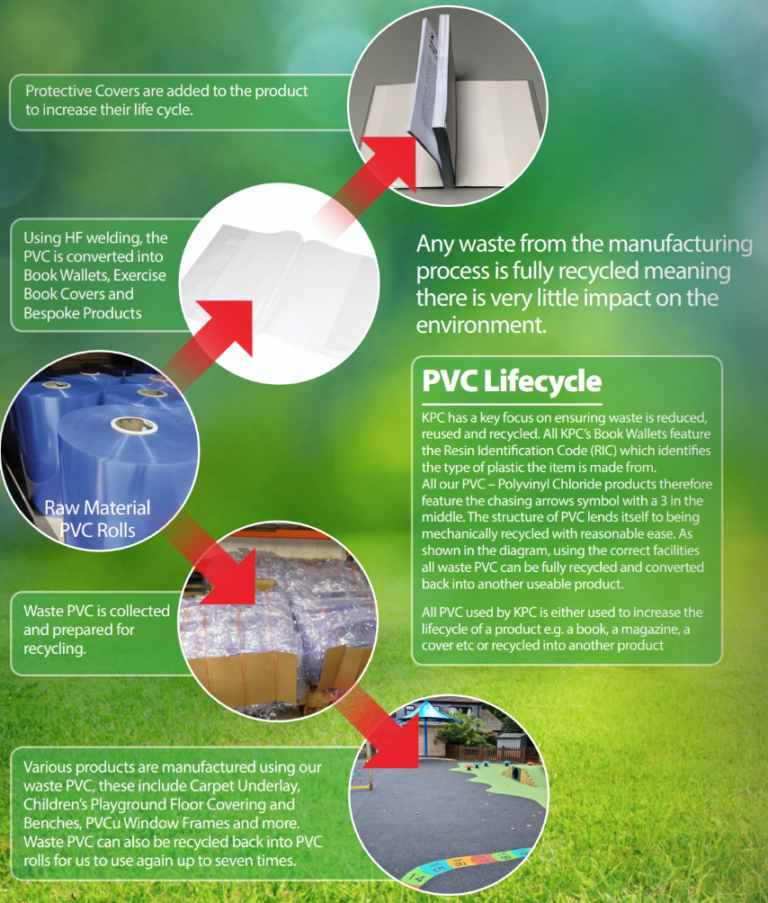 VinylPlus® is the European PVC industry's commitment to sustainable development, working to improve the sustainability performance of PVC. 
Through the VinylPlus initiative, the European PVC industry is creating a long-term sustainability framework for the entire PVC value chain. VinylPlus works towards an efficient use of PVC throughout its entire life cycle

In terms of circularity, 813,266 tonnes of PVC waste were recycled within the VinylPlus framework in 2022, representing around 27% of the total PVC waste generated during the year in the EU-27, Norway, Switzerland and the UK.
Since 2000, 8.1 million tonnes of PVC have been recycled and reused in new products, preventing the release of 16.2 million tonnes of CO2 into the atmosphere. Heavy investments have been made in research and development projects aimed at removing legacy additives from waste and increasing chemical recycling of PVC waste that cannot be mechanically recycled in an eco-efficient manner.
Their latest progress report can be found here.